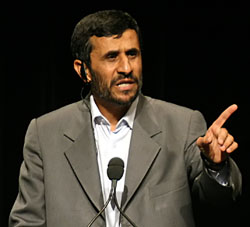 In a show of just how close Iran's military, philosophical, and financial support for Hamas is, on Friday, "Iranian President Mahmoud Ahmadinejad vowed [today] to keep supporting the Palestinian militant group Hamas until the "collapse of Israel."


Iran's record of providing support to Hamas to help it carry out terrorist attacks against Israel has been longstanding.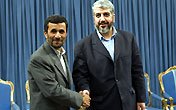 Earlier this spring, Iran promised Hamas advanced missiles, weapons systems, and financial support when the terrorist group's head Khaled Meshaal went to Tehran to meet with Ahmedinejad.
The New York Times reported last August that:
Hamas has sent hundreds of its fighters abroad for military training, most of them to Iran, the Israeli Army's deputy chief of staff says, and Israel has the names of more than 100 of them.
On March 9, 2008, the The Sunday Times reported that a senior Hamas commander boasted that 300 of the organization's "best brains" were secretly sent to Iran for military training from Iran's Revolutionary Guard:
"Iran is our mother," the commander said. "She gives us information, military supplies and financial support."
The Sunday Times report said that since 2005, at least seven (7) separate groups of Hamas fighters trained with Iranian instructors so that they could be snipers, make explosives out of everday items, and make deadlier rockets to use in terrorist attacks against Israel.