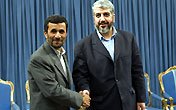 Top Iranian officials promised Hamas figurehead Khaled Meshal (inset, on the right) ongoing support to carry out further terrorist attacks against Israel, according to the London-based Asharq Alawsat newspaper.
The newspaper reported that high level Iranian political, security, military, and religious officials met with Hamas Political Bureau Chief Khaled Meshal in Tehran to discuss Iran's ongoing supply of weapons, military training, and financial support to Hamas.


One alarming part of the report stated that Iranian Brigadier General Ahmad Wahid — a key leader of the country's missile program — promised Mishal that Iran would "provide very advanced missiles that are currently being produced at the Martyr Bakiri Complex in Tehran especially for Hamas."
Other Iranian officials present at the talks with Hamas included:
Iranian Revolutionary Guard Commander in Chief Maj. General Jafari;
Brigadier General

Qasim Sulaymani, Commander of Iran's Quds Force;

Officials from Iran's Defense Industries Organization
Israel has long known about Iran's role in equipping, financing, and training Hamas terrorists to carry out attacks against Israel. The New York Times reported last August that:
Hamas has sent hundreds of its fighters abroad for military training, most of them to Iran, the Israeli Army's deputy chief of staff says, and Israel has the names of more than 100 of them.
On March 9, 2008, the The Sunday Times reported that a senior Hamas commander boasted that 300 of the organization's "best brains" were secretly sent to Iran for military training from Iran's Revolutionary Guard:
"Iran is our mother," the commander said. "She gives us information, military supplies and financial support."
The Sunday Times report said that since 2005, at least seven (7) separate groups of Hamas fighters trained with Iranian instructors so that they could be snipers, make explosives out of everday items, and make deadlier rockets to use in terrorist attacks against Israel.