Hamas planned to carry out terrorist attacks against Israeli civilians on public transit systems and a sports stadium in Jerusalem, according to Israel's Shin Bet security service. More than 30 suspects from the West Bank were arrested in September, according to newly disclosed information.


The terror operations were planned by Hamas's Turkey-based military figurehead Salah Arouri (inset), a senior member of the terrorist group close to the groups's leader Khaled Mashal.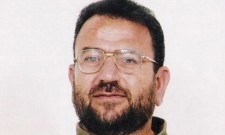 Arouri publicly stated that Hamas took credit for kidnapping and immediately killing three Israeli teenagers who were hitchhiking in the West Bank in June, a terror incident that led to Israel's Operation Protective Edge in Gaza in the summer of 2014.


Israel's Shin Bet learned that the captured Hamas operatives were trained in Turkey, Syria, Jordan, and Gaza. They were instructed by their handlers to kidnap Israelis, attack Jerusalem's light rail system as well as the city's new Teddy Stadium named after the late Jerusalem Mayor Teddy Koleck.
The suspects in custody were captured with M16 machine guns, an ammunition cache, and a supply of explosives.