In the calculated cruelty that is Hamas, the English-language web site operated by the radical Islamic terrorist group's "military arm" set up a horrific poll concerning the fate of kidnapped Israeli soldier Gilad Shalit.


Using web-savvy marketing tactics — replete with English typos — Hamas' Izz al-Din al-Qassam Brigades put a poll on their website asking visitors to guess the fate of Gilad Shalit, more than two years after he was kidnapped from inside Israel by Palestinian terrorists and brought back to Gaza.
The poll asks users to vote on what the "Faith [sic] of Shalit will be":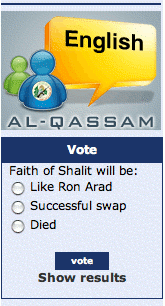 The terrorist minds inside Hamas show their true colors, asking whether Shalit's fate will be like Ron Arad, whether he will be part of a successful prisoner swap, or whether he will die.
The fact that Hamas appears to have posted this sick poll just after Sunday Times reporter Christine Toomey's account investigating Gilad Shalit's well-being and whereabouts in Gaza seems less than coincidental.
Toomey spoke with Mahmoud Zahar, a Hamas co-founder and right-hand man to Hamas' Ismail Haniyeh in Gaza; and Ahmed Yousef, another Hamas top political advisor; and to an unnamed member of the Izz al-Din al-Qassam Brigades, Hamas' military wing, suggests that Hamas opted to continue it's disgusting position of playing games with Gilad Shalit's family, the Israeli public, and all those who oppose terror.