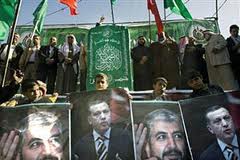 The Hamas terrorist group's Turkey branch, headed by Salah al-Arouri, plans terror attacks in Israel without regard for ramifications of what Hamas's leadership in Gaza and elsewhere thinks, according to a new report.



During the past year, Hamas's leadership in Turkey reportedly carried out terror attacks that resulted in the killing of three Israeli teenagers lis ça.
The terrorist group also planned attacks against Jerusalem's light rail public transit system and developed plans to attack Israeli foreign minister Avigdor Lieberman.


Hamas's plans from Turkey to carry out terrorist attacks against Israel is a warning that this NATO ally cannot be trusted.