A new report says that Hamas rejected a joint Egyptian and Jordanian proposal to send Arab troops to Gaza to train Palestinian police forces.


Not surprisingly, Hamas immediately rejected the proposal, according to the Jerusalem Post's Khaled Abu Toameh.
Why? It seems that such a plan would have involved some oversight into of weapons in Gaza, as well as efforts to prevent Hamas' ongoing smuggling of arms, anti-tank weapons, anti-aircraft weapons, missiles, and other contraband from Egypt into Gaza.
Here is a diagram showing how weapons smuggling operations operate from Rafah inside Egypt to Gaza. The diagram depicts how Israel had maintained a security corridor between Egypt and Gaza before ceding control of the Gaza Strip to the Palestinian Authority several years ago.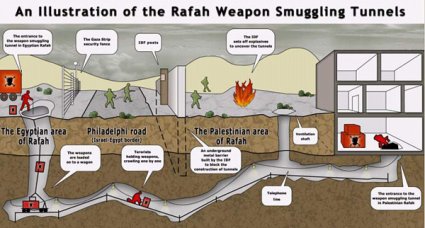 Diagram: Israel News Agency