Christine Toomey, a reporter for the Sunday Times, went to Gaza to ask competing Palestinian terrorist groups and clans an important question: where is kidnapped IDF soldier Gilad Shalit?


She didn't receive any clear answers.
Three competing groups originally claimed responsibility for kidnapping the 19-year-old Israeli soldier from inside Israel and taking him back into Gaza:
Hamas, via the terrorist group's military wing, the al-Qassam Brigades;
The Popular Resistance Committees, a loose amalgam of Hamas, Fatah and Islamic Jihad terror factions, and;
The Army of Islam, a previously unknown group claiming links to al Qaeda.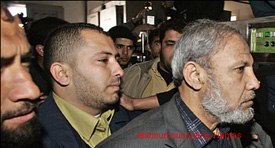 She met with Mahmoud Zahar, a co-founder of Hamas whom she called "a militant hardliner..the real power behind the Hamas prime minister, Ismail Haniyeh, and the one person who might be expected to deliver answers about Shalit."
Zahar claims to know nothing about Shalit's whereabouts. "Nobody from the political or military wing of Hamas knows where Shalit is," he alleged, "only the small group who kidnapped him know. They are very secretive."
Next on Toomey's list is Ahmed Yousef (inset, right), a Hamas top political adviser. Swtiching from talking about his job as a consultant to Tom Clancy, Yousef spouts conspiracy theories that he claims make people refuse to talk about Shalit.  Israel "can smell what we're eating," he spins, "so nobody will talk about Shalit. It puts them in great danger if they do."
Next Toomey goes to Gaza's Doghmush clan, leaders of a sophisticated crime syndicate and strong-arm force that was "happy to brag about how well [Gilad] is being treated."
51-year-old Abu Khatab Doghmush pointed the finder at Hamas, saying that "the only faction that controls his life now is the Qassam Brigades." But for someone who claims to know nothing about Shalit's whereabouts, Doghmush oddly claimed to know a lot, alleging "that Shalit is living in a paradise."
To bolster this incredible allegation, Doghmush claims intimate knowledge of Shalit's treatment: alleging that "every year a party is held to celebrate his birthday. Yes, there is a cake and candles, music, everything."
Toomey then travels to Rafah, Gaza's notoriously porous bordertown alongside Egypt, where she tries to talk with heavily armed members of Hamas' Izz al-Din al-Qassam Brigades, but they refer her back to Hamas leaders like Mahmoud Zahar.
Toomey speaks with 24-year-old Abu Mujahed, spokesman for the Popular Resistance Committees, a group which claims to have coordinated kidnapping Gilad Shalit form inside Israel. But when asked where he is, and how he is being treated, the PRC hack "repeats the mantra that he is being treated well, "according to our religion". Only a small group know where Shalit is held, he claims, and they communicate by means of dead letter drops, mobile phones being too easy to track."
Talking with parents of two Gaza terrorist killed by IDF soldiers during the capture of Shalit don't reveal anything about Shalit's whereabouts.