The fundamentalist Islamic terrorist group Hamas is facing a currency shortage, now that it's former allies in Egypt's dethroned Muslim Brotherhood were removed from power in a military coup.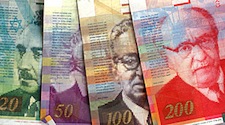 The Gaza authoritarian regime faces an even bigger financial crisis ahead, now that Egypt is intent on building a security zone to stop smuggling activities by Hamas and its supporters into Gaza.
Hamas spokesman Ehab al-Ghsain in Gaza sees the situation differently.

Buffer zones should not be built between brothers and between friendly countries," he recently told Reuters.


Destroying houses and tunnels used by smugglers that have been used to bring in weapons, materials, cars, food, and foreign currency, Egypt's military government is ramping up the pressure on Hamas, former Egyptian President Mohammed Morsi's Palestinian Muslim Brotherhood in Arms.
With Morsi and fellow Islamists no longer in power, Hamas cannot presently rely upon the Egyptian government for continued assistance.
One impact that this may have on the local economy is that that the going rate in Gaza for a 12-piece bucket of smuggled KFC is sure to skyrocket. In May, the price was reportedly $27 for such a dinner — a veritable fortune for a Gaza family. A scarcity in smuggled fried chicken will surely be felt by Hamas officials too. Will they opt for hummus instead?