Mousa Abu Marzook, a senior Hamas official, is crying to Facebook friends about his fear that Egypt allegedly wants to take control of Gaza.
Really? Why would any country — including Egypt or Israel — ever dream of reigning control again over the quagmire in Gaza?

For years, Abu Marzouk has been on a U.S. list of Specially Designated Terrorists.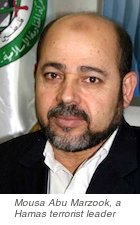 Abu Marzook has a well-documented history of supporting terrorism and violence. Jordan's King Hussein expelled him from the country in 1995 after concluding that he was involved in planning terrorist activities against Israel while in the country.
Quite a few U.S. court cases have exposed his role in helping individuals and U.S. organizations illegally raise money for Hamas, groups with ties to funding terrorist causes, and lying about a business relationship with U.S. designated terror-figure Marzook.


These include a case against the Texas-based Holy Land Foundation for Relief and Development (HLF), were it was found that Abu Marzook transferred hundreds of thousands of dollars from Hamas to the HLF. Another case resulted in a conviction against an Egyptian man in New Jersey for lying about his illegal business relationship with Marzook.
In a 2012 interview in a Cairo suburb, the second-in-command of Hamas was seen living the high life in a 3-story mansion with bodyguards and aides. After Egypt's military coup removed Morsi from power, and warned Palestinians to stay out of the country's domestic disputes, it seems highly unlikely that Marzook will return to Egypt in the near future.
Photo credit: The Investigative Project on Terrorism