Mosab Hasssan Yousef, the son of Hamas leader Sheikh Hassan Yousef, explained his decision to convert to Christianity in a Washington, D.C. talk last night, concluding "[t]he god of Islam is the god of hate."


He asked and answered a hypothetical question at his talk to a pro-Israel group.
"What would happen if Israel just disappeared from the map? There is no Israel anymore. Would there be peace in the Middle East? Palestinians would kill each other, I guarantee you."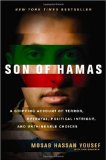 The former spy for Israel's Shin Bet domestic security service has a new book, Son of Hamas, detailing his undercover exploits, radical decision to leave Islam and become a Christian convert, and his undercover work.
Incredibly, the United States is currently seeking to deport Mosab Hassan Yousef for having connections to Hamas. He immigrated to the U.S. in 2007 to convert to Christianity, and his life would certainly be in jeopardy if he was to return to the West Bank that he once called home.
The U.S. Department of Homeland Security and Immigration and Customs Enforcement's absurd notion that Yousef poses a security threat is, at best, comical. Deporting a man who opposes Hamas terror back to a certain death — after he surreptitiously fought against it, risked his life to save the lives of innocents, and fled terror to find a new home — is a comment on the Obama administration's current naivete.