On Sunday, a Lebanese newspaper quoted a high ranking Egyptian security source who discussed restoring security to the Gaza's wild, wild west-styled Rafah border crossing.


According to Al Akhbar, the Egyptian security official said that there was "full agreement between Israelis and Palestinians on the Egyptian vision of calm in the Gaza Strip." That claim only appears credible if the Palestinians alleged to be in "full agreement" were aligned with Mahmoud Abbas, President of the Palestinian Authority.
This Hamas gunman inside a Rafah border crossing security checkpoint shows the true meaning of the terrorist group's intentions: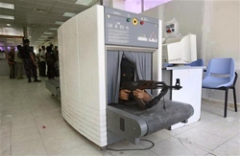 Real security along Gaza's border with Egypt would mean an iron-clad halt to the arms smuggling supplied by Iran, Syria, and others to Hamas and Palestinian Islamic Jihad in Gaza.
The smuggling continues, and with it, daily terror attacks with Hamas rockets against Israeli civilians.
The Egyptians can and must do more to stop this weapons smuggling.
Photo credit: Ibraheem Abu Mustafa, Reuters